100% nature –  but where is there something to eat?
Are you looking for a restaurant for a relaxed dinner?
And where do I get to the nearest bakery, butcher or supermarket?
Practical tips to make you feel at home in the Brie.
Here you will find the most important addresses for daily life.
The tastiest croissants in the world
France is known worldwide for the best pains au chocolat and croissants. And quite rightly so.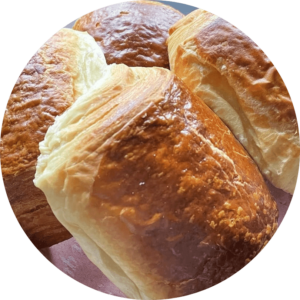 You are also incredibly lucky, because one of the best bakeries, in my opinion, is in the suroundings. And this one is a real insider tip!
La petite boulangerie comes along completely inconspicuously in Mortcerf. But their croissants, pains au chocolat (chocolate croissants) and pains aux raisins (sweet raisin snails) are the hit. Not so greasy and just perfect in taste and size.
I can also recommend the baguette "Tradition" and during the weekend the organic bread "Pavé des Galinettes" – if you like honest bakery craftsmanship.
On weekends you have to be quick (before 9:30 a.m., otherwise you can stand in front of empty vitrines) or pre-order by phone or in person.
For pasteries, there will be another tip.
The petite boulangerie, 67 rue du vingt sept août, F-77163 Mortcerf
Phone: +33(0)164656421
Closed on Tuesday and Wednesday.
Local and seasonal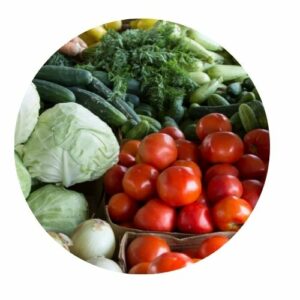 Do you prefer regional products and short distances from the producer to the consumer? Then these tips are worth their weight in gold:
Le marché du Plessis
The boutique of the picking field "Cueillette de Lumigny" has fruit and vegetables, meat, sausage and cheese, as well as "souvenirs" from local producers.
Opening hours vary seasonally. Here is the current status: Le marché du Plessis
Les jardins de Faremoutiers
Is actually a plant and flower shop. For some time now, they have also been offering local fruit and vegetables, dairy products, pasta and cider.
Here you can find the current opening hours: Les jardins de Faremoutiers
La ferme des Parrichets
Shortly before Coulommiers you will not only find fresh eggs from their own production, but also fruit, vegetables, terrines and poultry: La ferme des Parrichets
La Box Briarde
Local produce is available fresh every day, regardless of opening times, at the Box Briarde. The box closest to Hautefeuille is in Faremoutiers, just off the first roundabout on the right, next to the Kiosque à Pizza: La Box Briarde
Supermarket & Co.
The nearest supermarket is the Intermarché in Faremoutiers (5 km away). It also has a good butcher's shop, where there are sometimes offers from local farms.
Monday-Saturday 8h30-20h, Sunday 9h-12h30, Les Pres du Bourdeau, Faremoutiers
In Coulommiers you have the choice:
There is a modern Lidl, 2 rue de l'Orgeval, Coulommiers (same opening hours as Intermarché) and
A large E.Leclerc supermakt with cheese and meat department: Boulevard de la Marne, Coulommiers
Mon-Sat 8h30-20h, Sunday 8h30-18h
Also worth mentioning is Le grand frais – a large "market hall" with a fresh selection of vegetables and fruits and a large butcher's shop. Fish and dairy products are also available here.
24-26 Rue du Grand Morin, Coulommiers, Mon-Sat 9h-20h, Sun 9h-12h30
If you want to experience a mega giant supermarket, go to Val d'Europe, there is AUCHAN, with a huge selection of everything. Butcher's, delicatessen, cheese and fish department, kitchen appliances, toys and clothes.
14 Cours de Danube,  Serris, Mon-Sat 9h30-21h30, Sun 9h-20h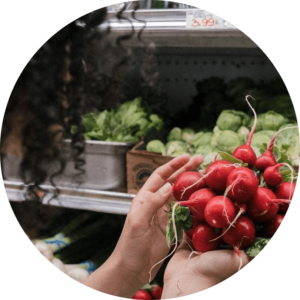 Gas station
The nearest gas station is in Faremoutiers (only vending machine and open 24h).
Address: Les Pres du Bourdeau (coming from Mortcerf at the first roundabout on the right, then immediately left. In the same industrial area as Intermarché).
At Disney you can refuel at an Esso gas station (but it is quiet expensive):1 Av. Robert Schuman, 77700 Coupvray or at 
Auchan, Val d'Europe. The gas station is in the parking lot. Directly at the large roundabout in the direction of Auchan on the left.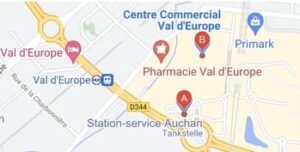 Restaurants
First of all: Uber Eats etc. does not (yet) deliver to Hautefeuille.
Restaurant du domaine de Bellevue in Neufmoutiers (about 20 km) Chic restaurant with good French cuisine. In summer, you can sit outside on the spacious terrace and look into the fields. Reservation highly recommended: Domaine de Bellevue
O'Carré Rouge à Coulommiers: French cuisine in a relaxed atmosphere. Again: make a reservation: +33 (0)1 64 20 75 85. Closed all day on Sunday evening and Monday. 4 Quai de l'hôtel de ville, Coulommiers
La Crepoise – Creperie in Coulommiers. Family crepe restaurant with fresh ingredients. 48 Rue Bertrand Flornoy, Coulommiers, Tel: +33 (0)1 70 35 50 64
Auberge de Rigny chez Seb et Joe (4 km each). Old French eggplant with home-style cuisine. You get a decent entrecôte with fries! To the Augerge de Rigny
L'Atmosphère restaurant is the insider tip if you want to dine directly on the terrace by the water in Coulommiers. Reservation recommanded: +33(0)1 64 20 96 23.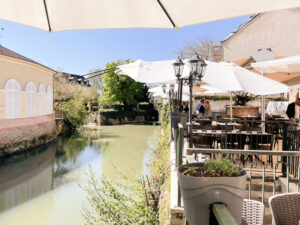 Emergency addresses
Emergency number: 112
Or:
Medical emergency: 15
Police (gendarmerie and Police nationale): 17
Fire department: 18
Nearby hospitals:
GHEF Coulommiers 4 rue Gabriel Péri, Coulommiers
GHEF Marne-La-Vallée: 2-4 Cours de la Gondoire, 77600 Jossigny
Public transport
Train to Paris: Line P Coulommiers-Paris Est.
Nearest train station: Mortcerf in 5 km (you can park your car for free there).
Buy tickets at the vending machine and stamp them beforehand.
Bus to Chessy/Disneyland Paris: Departure from Covoiturage de Pézarches (Roundabout 3km in the south). You arrive in front of the entrance of Disney or can continue with the RER A to the centre of Paris.