Hooray, we're going to Disneyland! Your children are happy and you are also looking forward to a few days of new sensations.
Now you have a week's vacation and are wondering, "what else can I experience besides Mickey & Co."? Are you looking for local excursions around Disneyland Paris?
In this post, I present you a possible weekly schedule for your family vacation. We are parents of three children ourselves and love to travel and would also like to fulfill our children's heart's desire on vacation. Our own needs for culture and recreation should not lag behind either.
Here is your plan for excursions around Disneyland Paris
Day 1 – Come to France/Paris
I wouldn't plan anything else that day. So your holiday starts relaxed right away, because there is not a program immediately. So you can stop comfortably on the way, in a small town, have lunch (maybe something other than fast food) and do missing grocery shopping on the way to your holiday accommodation.
Day 2 – Disneyland Paris
Sure, that's why you're here. There is indeed a lot to see in Disneyland Paris. I would plan two days for the parks. So you can experience the attractions without haste in both parcs: Disneyland and Walt Disney Studio. If you already know Disney or come back for a second time, you can shorten it to one day and exchange it with the "Paris Days".
Day 3 – Disneyland
Back again!
Day 4 – Unesco World Heritage Site of Provinces
Today we need more calm. I suggest a cozy family breakfast with fresh croissants and pain au chocolat (from the baker from the neighboring village) and then a visit to the medieval city of Provins. It is a UNESCO World Heritage Site and offers many buildings as well as a knight's spectacle and a falconry demonstration. In the restaurants you can enjoy French flair at noon or eat a crepe in the afternoon.
Day 5 – Paris, my love.
Today we are going to city of love, which also offers you a lot with children. Whether you travel by car or train (from Mortcerf), a visit to the Eiffel Tower will remain in everyone's memory. In any case, I wouldn't take the elevators, but walk up to the first floor. If you want to go all the way up, you have to take the elevator anyway. Just opposite the Seine is the Trocadero, from which you have a great view of the Eiffel Tower. Across the city, it then goes to Montmartre. The former artist village can be explored on foot and the church of Sacre Coeur also leaves little people amazed. In any case, the view in front of it is unforgettable for everyone. That's all I would put into a Paris day. In any case, my family often stops in shops and we also want to eat something without speeding. Holidays should not be stressful, but relaxing for everyone.
Day 6 – Shop until you drop
Do you also take souvenirs from vacation with you? And do you also love to buy a T-shirt on vacation and every time you wear it, you remember the place where you bought it? Then Val d'Europe and La Vallée Outlet is your land of plenty. There is also a large Auchan supermarket where you will find wine and other genuine French specialties to bring.
In the afternoon, you can all take a walk together in the forest of Hautefeuille to relax. Refuel green and forest air and take a deep breath. You can spend the rest of the day comfortably in the garden, where the children can still fully exhaust themselves.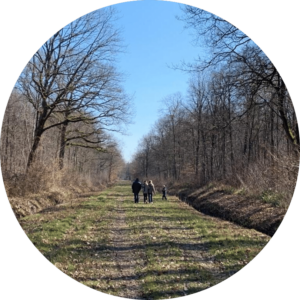 Day 7 – Wild cats in the Parc des felins
The last day. Today, see and feel are the order of the day. And this with wild animals ! In Lumigny there are two great parks that have a different concept than normal zoos: Parc des Félins and Terre des singes. In the first, big cats that are housed in huge outdoor enclosures await you. With a park's own train, you can also run over remote corners and observe the animals. Terre de singes brings you closer to various monkeys. In summer, you pick dinner fresh in the Cueillette de Lumigny nearby, a picking field with its own boutique where you will find the last culinary souvenirs.
Day 8
And on day 8 it goes back home. And because there are still so many beautiful things to see in the Brie, you are planning your next stay right away. Belle de Brie are beautiful apartments with terrace and garden in Hautefeuille. Between fields and forests you will find nature and calm and for your children a huge swing in the garden.